The Kakkars' NGO has been teaching marine conservation to urban youth for nearly 25 years.
When Mitali and Prahlad Kakkar set up India's first scuba-diving school on Kadmat in Lakshadweep nearly 25 years ago, their passion to showcase the island's shimmering underwater spectacle was anchored to a selfimposed responsibility to protecting the ocean.
So, it was inevitable, in a sense, that along with the dive school, Lacadives, the Kakkars would kick off their NGO, ReefWatch. This is a conservation programme aimed at restoring and rehabilitating coral reefs in the Andamans and Lakshadweep while educating the young about its importance.
Sitting in their charming St Paul Road office in Bandra, its walls adorned with large, framed underwater photos and certificates marking various achievements, Prahlad playfully darts in and out of subjects. A sagely smile often punctuates his unabashedly chatty disposition. "We Indians are scared of water. For a country with a 7,500 km-long coastline, our water sport activities are nearly zero," he says. "The first thing a millionaire here buys is an expensive car, not a yacht or a boat. Elsewhere in the world, your lifestyle starts with water."
Mitali, who helms ReefWatch, joins the conversation. "We know very little about the ocean," she says, seconding her husband. "The love for the ocean doesn't come naturally to most Indians. We have a fear of the sea. Our aim has been to change that mindset and create a fascination and love for the ocean, because only then will they want to preserve and protect it."
The Kakkars also realised that awareness of these issues won't impact adults. "It only impacts children because they take their lessons home and also teach their parents," says the ad guru and restaurateur, in his explanation of why nearly the entire ReefWatch programme focusses on children and schools. "When you take children to the ocean, hold their hands and make them peer into the depths to see what is living, growing… the plastic that is destroying [the environment], the damage humans are doing — that's how they will become a part of the movement. They will then say 'we won't throw rubbish into the oceans and we will take care of them'."
For the past 25 years, ReefWatch has spearheaded the region's coral reef research and replantation programme, even collaborating with the forest department of the Andamans. The educational programmes with children have been a constant feature. For as many years, ReefWatch has made school curricula "come alive" for children by taking them to coral reefs and protected areas, training them in snorkelling and scuba diving. "You can only protect something that you love. It has to start from there," Mitali says.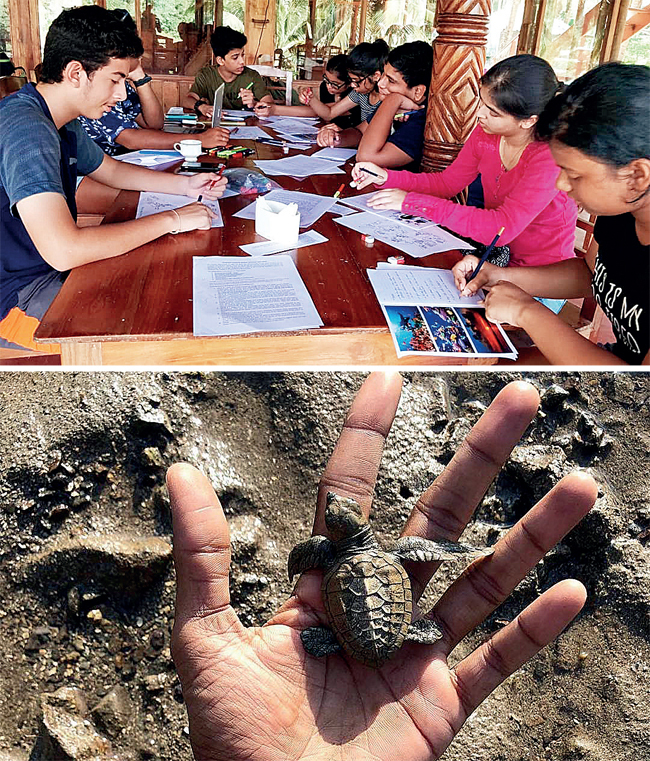 Taking students, between the ages of 10 and 15, from South Mumbai schools for a five-day trip to the islands, for instance, is a regular affair. "Most of these kids have never been to the ocean, or to a forest, or even to a village for that matter. So they are awe-struck — learning snorkelling, diving, taking care of the ecosystem, and having life's lessons taught by the sea," says Prahlad. One of his favourite lessons is that it's only when you give up your ego and become a part of the sea that the sea looks after you. "Children learn, very early on, to let go and to surrender the ego. The sea teaches them that."
That also explains why ReefWatch lays emphasis on education programmes for the youth, like in the Andamans. "Post the 2004 tsunami, the livelihoods of locals were affected," says Mitali, "We carry out capacitybuilding programmes, where we encourage and train young minds to become forest wardens for the forest departments of these islands, or to work at the many marine national parks all across the Andamans and the Lakshadweep islands."
From teaching the islanders in Lakshadweep marine conservation to training locals in the Andamans to sustain their livelihoods, ReefWatch has been about giving back, Prahlad shares. "In Long Island, for instance, we are training villagers to not poach turtles, and, instead, to turn turtle conservation into a tourist attraction, wherein they can guide the visitors with precise information on nesting and hatching, or take them on forest trails," he says. The sea is their bread basket. Whatever they catch, they eat, Prahlad adds. "To make it sustainable, we tell them there are certain species you can eat, some that you can feed the tourists, and some that you need to leave alone."
When the Kakkars learnt scuba-diving in Mauritius back in 1990, their instructor and ocean warrior, Hugues Vitry, had wished that his favourite student Mitali start an NGO on marine conservation, ingraining in her aphorisms such as; if the reef disappears, even the island disappears. "In my 25 years of diving, I have seen the change myself. People have become more ecologically conscious about the ocean," Mitali says. A change in government policies around the ocean, and that marine animals were put on the Wildlife Protection Act, 1972, she adds, have positively impacted marine conservation efforts.
"Going forward, we must remember that the existence of this planet and the human race depend on the health of the ocean. We must consciously make efforts to preserve and protect the diversity of the ocean and what we have inherited from our ancestors vis-a-vis the ocean," she says. Meanwhile, today, in a typical Sunday ritual, Port Blair's Chidiyatapu will be overrun with "sunset watchers" — tourists who will almost certainly leave behind a pile of rubbish. The schoolchildren, who gather at the ReefWatch camp every Sunday to watch underwater videos and learn to grow corals on metal rods, will be cleaning up the trash. This is part of an exercise on beach cleaning and separating wet and dry garbage. And, the weekly task of clearing the ocean of its garbage floats a metaphor for what our generation is leaving behind for our planet's tomorrow.