SALT LAKE CITY — A coalition of Utah environmental organizations have come together with a new program to help Salt Lake City residents become more energy efficient and reduce our air pollution.
The Salt Lake City Sustainability Department and Utah Clean Energy have teamed up with the International Rescue Committee, Salt Lake County Aging & Adult Services, and YouthCity Government to create Empower SLC, a community program meant to provide renewable energy education and resources to residents.
The program will be funded primarily by a $200,000 investment from Salt Lake City. It will also see support from a number of local organizations including Rocky Mountain Power, Utah Clean Air Partnership and Drake Real Estate, according to Kevin Emerson, energy efficiency program director for Utah Clean Energy.
Salt Lake is one of the four cities in Utah that has a goal to transition to 100 percent renewable electricity by 2032.
Despite the state's high solar usage ranking and energy use goals, some communities still lack access to important resources or helpful information.
Utah Clean Energy noted on its website that the challenges people may have implementing efficient energy use include "the up-front cost, limited incentive promotions, or linguistic barriers."
The Empower SLC pilot program will focus specifically on the zip codes 84104 and 84116 on the west side of the city, where there have been historically lower rates of participation in energy efficiency programs.
Emerson explained that in these specific zip codes, nearly half of the residents are Latinx. They don't always speak English as their primary language, and many live in low-income households with large energy burdens.
Emerson said, "with a higher percentage of households that have a lower income, the energy burden is a bigger issue. That's why we focused on those two zip codes."
The hope is that these strategies can eventually be scaled up to other neighborhoods and eventually the whole state.
"We want this to be a model where community organizations work with other community organizations that directly serve community members and bring information and actions directly to them across Salt Lake City and across the valley really. This is more of a large-scale pilot, and we hope to see it expand significantly," Emerson said.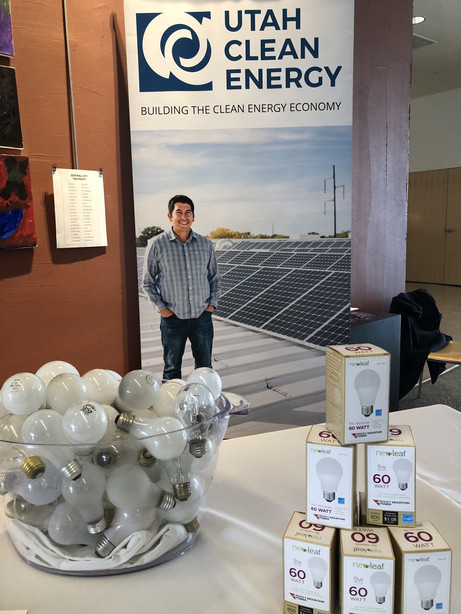 Here are the goals Empower SLC should accomplish within two years:
• Increase uptake of household energy efficiency actions among SLC community members
• Drive participation in energy efficiency programs designed for multi-family residential buildings by engaging property managers within the target area
• Encourage local schools within the targeted ZIP codes to participate in Rocky Mountain Power's "Be Wattsmart, Begin at Home"
• Provide education to small businesses and building owners and managers to increase understanding of the economic, comfort and air quality benefits of energy efficiency while connecting them with utility programs.
The organizations that have helped to start Empower SLC are the designated "Energy Ambassadors" of their communities, and they all provide help in their own way.
Both the International Rescue Committee and the Salt Lake County Aging & Adult Services are providing help and free home LED light installations for residents in the selected zip codes.
The Salt Lake City Division of Youth and Family helps by putting on events twice a year to educate citizens about efficient and renewable energy use.
People who live in the designated 84116 or 84104 area codes can also head to one of three permanent "light swap" locations to switch their incandescent bulbs for more efficient LED bulbs. All of the locations are listed here on the Utah Clean Energy website.
Empower SLC has made a Home Energy Checklist available to everyone containing 14 things you can start with to become energy efficient, as well as the annual savings you could see by doing them. The checklist is also available in Spanish.
"When we can have multiple households take action and be informed about how they're all participating in this transition to a low-carbon community and also reducing air pollution, that's a really exciting prospect," said Emerson.
×
Photos